July 1, 2011
Our first inductee into the Jokes on You hall of fame is Cathy "CC" Cockerham!
CC was one of JOU's earliest contributers, was our first multiple winner, inspired at least one of the JOU categories and was reigning champ for most wins for several years until she went into semi-retirement.
Congrats, CC.

July 8, 2011
IN REMEMBRANCE
SAD NEWS. I regret to announce that Joel Darrell Clark, JOU's second winningest contributor, died this week. He went out a winner, as he won last week's contest. JOU just won't be the same without his wit.
I've posted some samples of his winning entries below, as well as his induction into the JOU Hall of Fame.

Joel Darrell Clark has posted 9 wins and 100 runner-ups, the second-most by any JOU contributor. His captions were consistently funny and clever – even the ones that didn't win or get runner-up. He is one of only three people to get back-to-back wins, and he did it TWICE. He was never interested in drawing attention to his captioning talent, though, as he humbly entered captions under two separate names – Joel Clark and Darrell Clark (his middle name) using two separate e-mail addresses. He only came clean after I noticed when he once mistakenly posted the wrong name to the wrong e-mail.
Below are just a few of Joel's winning entries.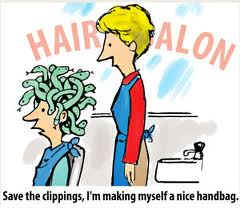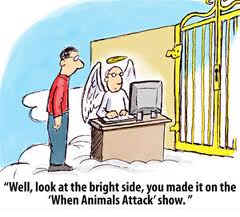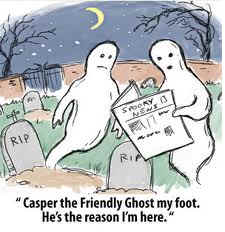 July 15, 2011
This week's inductee into the Joke's on You hall of fame is Tim Tribbett!
Anyone who reads "Jokes On You" even casually will recognize Tim's name. He is both cursed and applauded for the regular frequency his name appears. Small wonder that he is Joke's on You's winningest captioner ever with 13 (yes, 13) wins and 125 runner-ups.


July 22, 2011
This week's inductee into the Joke's on You hall of fame is Joel Tuggle!
Joel Tuggle has 6 wins and 60 runner-ups. He's also the only person to ever score three – yes 3 – captions on a single cartoon (one winner, two runners-up.) That's almost impossible to do.
July 29, 2011
This week's inductee into the Joke's on You hall of fame is Bob Mannary!
Bob had some of the most outside-of-the-box captions JOU has ever received. He has 6 wins and 42 runner-ups, but he did this in a rather small time span as Bob has been absent JOU for awhile now.  But his legacy lives on as he's the guy most responsible for the "CULTURAL REFERENCES," "BEST INSIDE JOKE" and "BEST POEM" categories of the blog. He is also one of only 3 back-to-back winners JOU has ever had. 

This week's inductee into the Joke's on You hall of fame is Ken Sheldon!
Although Ken didn't start the BEST POEM category, he certainly made it his own, becoming JOU's designated poet laureate. He has 4 wins and 44 runner-ups, but it's his limericks that put him in a class by himself – the only captioner to get his own feature in our paper. Besides 'BEST POEMS," his captions also often show up with regularity in the categories "BEST CULTURAL REFERENCES," and "BEST INSIDE JOKE," among others. He is also the last of the only 3 back-to-back winners JOU has had to be inducted. He's also very good at spotting re-used art.
August 12, 2011
This week's inductee into the Joke's on You hall of fame is Tom Norman!
Always a bridesmaid, almost never a bride, somehow Tom only has 4 wins despite having the third most runner-ups of any contributor. But that's just a matter of bad luck, not a lack of consistent quality, which he always provides.

August 19, 2011
Brandon Breeze is the stealth captioner. His name hasn't seemed to garner the recognition from readers the way others have, but he's quietly amassed no less than six wins and 42 runners-up.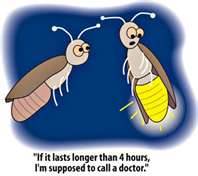 October 14, 2011
Bill Wallace garnered his 5 wins and 58 runner-ups the hard way – by snail mail. For whatever reason, Bill feels more comfortable writing his captions by hand and sending them by mail. Although he's not been the only one to enter this way, no other snail-mailer (and very few e-mailers too, I might add) has come even close to replicating Bill's success This makes Bill – easily – JOU's snail-mail champ.