June 2017
On line calendars - there's nothing greater.
"Move our meeting." I sure won't debate her.
Yes, two-thirty is fine.
"It was two!" she would whine.
So we missed it again, only later.
---
"Where'd our disk space go? What in tarnation?"
That's a sysadmin's constant frustration.
An inspection? How sweet!
Barney made them delete
Films that JIM used for his motivation.
---
There's a change that's about three years old.
'Twasn't updated like we were told.
Vendor's blame? They'd believe,
A maternity leave,
While our guy, he's been out with a cold.
---
I'm a Linux admin, born and bred.
"Fix this workstation issue," they said.
I've learned one thing, and that's
Techies wear many hats,
And in my case, the hat I wear's red.

---
A new time tracking system was found.
All those rules they have served to astound.
So as prompt as can be,
When it's 4:23
Don't expect to see me still around.
---
I called help desk to get an assist.
The reset is not working? What's missed?
There's a server that's dead.
Try tomorrow instead.
What's my new password now? It's "1'mP1$$t!"
---
Track creation dates? Where to begin?
The consultant said, "That's hard as sin!"
But I worked on a hunch
And I wrote all through lunch.
But his two cents he had to put in.

Since a skeptic since when we'd begun,
I looked hard for the changes he'd done.
When this genius was through,
Where I used buckets two,
He combined so it used only one.
---
There's advice this technician would seek.
"This material: what's your critique?"
"It was scrapped. Didja hear?"
It's a note from last year?!?
I trash messages I got last week!
I also wrote a limerick in memory of one of my first childhood heroes, who passed away on the 9th,
As a kid, there's one man who was best.
He could overcome every last test.
He'd be stamping out crime
In two episodes' time.
Rest in peace to my man, Adam West.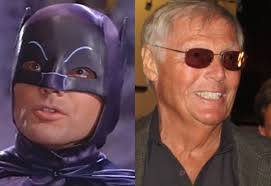 ---
That support group I'd punch every rib!
Type from scripts with an attitude glib?
Has this idiot flipped?
Must he type from a script?
Doesn't he think there's times to ad-lib?
---
All that OT! That week we'd be rich!
So we scratched a big island trip itch.
What they did was so strange
When my timesheet they'd change.
As my wife would say "Karma's a bitch!"
---
On the phone said that tech support clerk,
"Yes, that unit we'll swap" with a smirk.
That was ten years ago.
Now there's one thing I know:
I will only buy printers that work.
---
It's to HR the guy's getting through.
Calling IT's the right thing to do.
Use that number today
'Cause you know what they say:
Everything on the internet's true.

William Shakespeare
---
There's a roll-out with woes deeply rooted.
Forty thousand calls can't be disputed.
What we saw was so strange:
Just four tickets for change?
Like our PC's, that bunch should be booted.
---
Said the user, "It's really quite weird.
Tons of files, they have all disappeared."
So I asked, "What was hosed?"
Still the list's undisclosed,
So that ticket so quickly was cleared.
---
Miss Aunt Rachael and dear Uncle Bob?
Working weekends just makes my head throb.
Looking back, I thought, "Gee!
Double time paid to me!
And that PM, he still lost his job!"
---
Public Works says our net is displeasin'.
There's a document they have been seizin'.
That department's so moanly
Because it's "Read Only."
I bet it's that way for a reason.
---
There's a call that said something was wrong.
"It's not hardware!" Resistance was strong.
Hear that specialist snort,
"You need cable that's short,
But the one you've put in's way too long."
---
"Here's my plan!" he announced with a squeal.
"Mark things up, then discount! It's a steal!"
That's a dishonest way,
But I've seen, sad to say,
There are stores that will do that for real.
---
Where it once smelled of springtime fresh blossom,
It now reeked of a Cajun fried possum.
Though skunked dog, rotting squirrel,
And dead mice make me hurl,
I'm glad I'm not the one who would toss 'im.
---
Why's his browser now throwing a fit?
Forms he needs on a site he can't hit.
We'll save money today
The Colombian way.
It's much better to just go legit.
---
'Twas a line that he used, well-rehearsed.
"Push a button! We can't?" The guy cursed.
Well, I'm happy to say
We can do that today,
But there's more that I had to push first.
---
Fixing tape drives - a tedious feat.
We were saved by a programmer's sweet.
What his fix would require:
First we'd fix that loose wire,
Then hire folks who were light on their feet.
---