September 19, 2020
Yesterday the News & Record had this little notice in the spot where the weekly "Joke's On You" feature would normally be located. The Joke's On You is apparently another casualty of the disaster called 2020.

This is a feature that I have been a part of since January 2009, and it held many memories for me:

Making the newspaper with my very first submission.
My 15 wins, the last one being as recently as last month.
My back-to-back wins in just the third and fourth weeks of submitting captions,
The excitement over when I won Roger Ebert's Limerick Contest in 2010,
My limerick feature in January 2011, which took up almost the entire page of the paper
My inclusion in the Joke's On You Hall of Fame,
The week that the artist Tim Rickard noted in the JOY blog that "...your limericks kick a**??", which has been on my title bar for the site ever since, , and the occasional correspondence with Tim himself.
Being asked to compose a poem to be published in the paper marking the tenth anniversary of the JOY.

I emailed him that Friday morning expressing my surprise and shock at the sudden end to JOY. I was able to send him a couple zip files with all the cartoons contained on this site for the JOY to assist in his job hunt, since when he was let go, his access to the newpaper's archives of his work was gone. I am happy that I was able to help Tim in that way.

It has been a fun ride submitting captions for the Joke's On You, I wish Tim Rickard the best of luck in his job search. Don't forget, as the piece on the left says, you can still catch his work in his Brewster Rockit: Space Guy comic strip.
September 11, 2020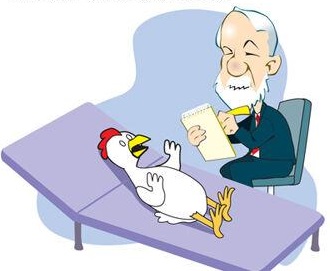 The limerick
Chicken shyness - on this I will dwell.
When they're young, it gets treated so well.
While they're in the egg phase,
It takes twenty-one days,
Then the chick will come out of its shell.

Ken Sheldon, Elon
Entries
All the kids used to call me Marty McFly.
I never did anything to a cow. What would the Cathy's have against me?
I am really a late sleeper, but society has put this onus on us.
They ran a limerick in Friday's paper, but I have no idea who wrote it.

Ken Sheldon, Elon

---
BEST CULTURAL REFERENCE
It's got cigar burns from when Baby Herman used it.
Ken Sheldon, Elon

BEST POEMS
Explained Jeff to his little bro Douggie,
"Lots of grownups with us get so huggy.
They'll coo "mama" and "papa"
And "goo goo" and "nana."
They could drive a sane baby buggy.
Ken Sheldon, Elon

Other Entries
No steering, no brakes, no seat belts... it's a death-trap!
The minute you learn to walk, it disappears.
When Mommy dresses me formally, she calls it "pram and proper."
Ken Sheldon, Elon

---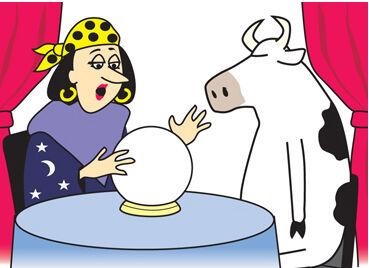 RUNNERS-UP
"That's odd. I see a king, a clown, and a girl with red pigtails."
Ken Sheldon, Elon

BEST CULTURAL REFERENCE
It looks like Dorothy is with Professor Marvel now, but she'll be back.
Ken Sheldon, Elon

BEST POEMS
Asked the bull of the psychic named Mona,
"Should I run with my pals in Pamplona?"
"It's a bad trip to take,
Since so much is at steak."
Said the bull, "Your prediction's a groana."
ken Sheldon, Elon

Other Entries
Don't go into waiting tables. That job includes a lot of tipping
Every mate I see for you is full of bull.
No, the grass is greener on your side of the fence.
I see fits of rage for you, but they'll only last for at most 8 seconds.
I'd avoid that trip to Mexico if I were you.
Ken Sheldon, Elon
---
Yippee!!! Win #15!!!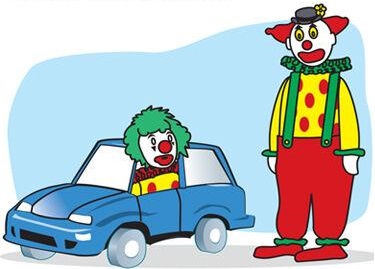 WINNER
"I'm going to the store. Do we need any seltzer?"
Ken Sheldon, Elon

BEST POEMS
At a circus, the crowds are amused
By the clowns who might act so confused.
The big question, by far.
With their tiny clown car,
How they fit with their oversized shoes.
Ken Sheldon, Elon

Other Entries
You wanted a van? For us, this IS a van.
Ken Sheldon, Elon
---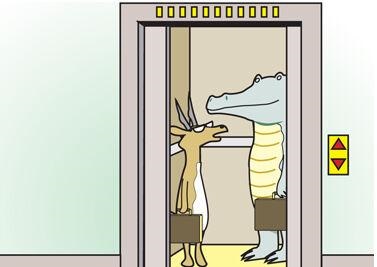 RUNNERS-UP
"Uh, I think I'm gonna take the stairs."
Ken Sheldon, Elon

BEST POEMS
To the croc, the gazelle had to say,
"At our church, we all meet every day.
Us gazelles, it is true,
We're all praying for you,
Don't use "E" - we all spell it with "A."
Ken Sheldon, Elon

Other Entries
What do you mean, "Let's do lunch?"
See ya later, alligator.
In a while, crocodile.
Ken Sheldon, Elon
---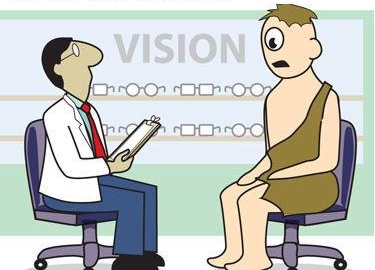 HONORABLE MENTIONS (Also getting votes from our judges)
"It's not 20/20, just 20?"
Ken Sheldon, Elon

BEST CULTURAL REFERENCE
The only frames you have for me is from the Minion Collection?
Ken Sheldon, Elon

BEST POEMS
Cyclops glasses - the cost is quite high.
A huge lens he will need for one eye.
When it's all said and done,
When held up to the sun,
Think of how many ants he could fry!
Ken Sheldon, Elon

Other Entries
No, it's not 20/20, just 20.
The only frames we have for you is from the Minion Collection.
Ken Sheldon, Elon
(I was going off memory for this set - I thought the optometrist was speaking, not the cyclops.

It's not 20/20, just 20?
The only frames you have for me is from the Minion Collection?
Ken Sheldon, Elon
Fixed

Shouldn't I get them for half price?
Yeah, I was the model for the CBS logo.
How are they going to stay up if I haven't got a nose?
Ken Sheldon, Elon

Can I get a contact lens? I'm the logo model for CBS.
Ken Sheldon, Elon
(I must have liked the CBS angle.)
---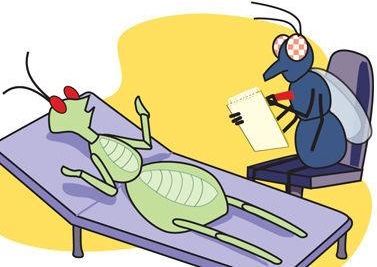 BEST POEMS
Asked the analyst, "Gnat, please tell me
Why from home, you've decided to flea?"
"There are days I just can't
Take abuse by my ant.
Why can't she ever just let me bee?
Ken Sheldon, Elon

Other Entries
Of course, I'll tell you what's bugging me.
They always tease me because I only have four legs.
I do love her, but I know what they do when they mate...
Ken Sheldon, Elon
---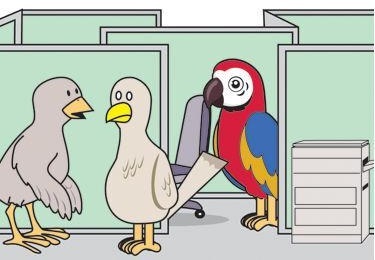 BEST CULTURAL REFERENCE
He does remind me of John Cleese's Norwegian Blue too.
Ken Sheldon, Elon

BEST POEMS
English has quite a way with its words.
Say some clerks, office workers and nerds:
There are some who relate
That their job's really great,
Others say that their job's for the birds.
Ken Sheldon, Elon

Other Entries
Polly says the snack machine is out of crackers. Again.
Sometimes birds of a feather shouldn't flock together.
Of course she spends a lot of time on Twitter. We all do.
Watch what you say around him, or you'll be in diversity training for a month.
I'll talk to him about using earbuds when he plays his Jimmy Buffet albums.
Ken Sheldon, Elon
---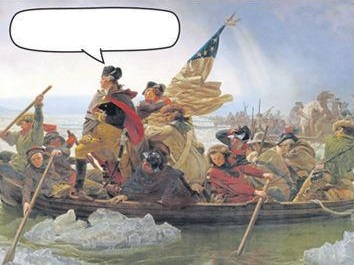 BEST INSIDE JOKE
Maybe they'll have some Grey Poupon in Trenton.
Ken Sheldon, Elon

BEST POEMS
Hate the British? They had a solution.
They would start up a fierce revolution.
Since they won't take no more,
They would triumph in war,
And create a brand new constitution.
Ken Sheldon, Elon

Other Entries
The GPS said to go this way , so we go this way.
Yes, Irving, we DO have to row to New Jersey!
I'll do anything to not have to spend Christmas with my in-laws!
I can't sit down. Martha starched my breeches.
Ken Sheldon, Elon