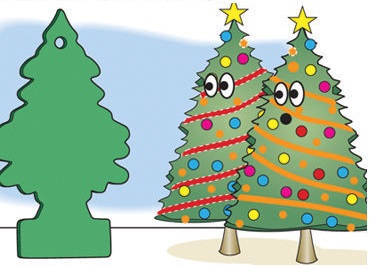 RUNNERS-UP
"All he wants for Christmas is a car."
Ken Sheldon, Elon

BEST POEMS
Christmas trees are so festive by far!
They will spruce up the places they are!
Underneath, kids will pine
For toys they'd like to find.
Then there's others fir use in a car.
Ken Sheldon, Elon

Other Entries
Too bad , just a shadow of his former self.
I hear he's quite a swinger.
Ken Sheldon, Elon
---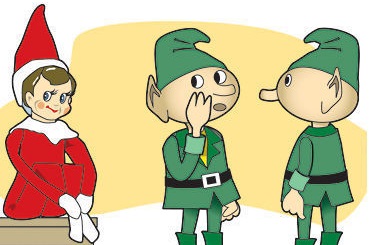 HONORABLE MENTIONS (also getting a vote from the judges)
Shhh - he works for the CIA - the Claus Intelligence Agency.
Ken Sheldon, Elon

BEST POEMS
Are our kids good or pains in the neck?
There's this elf on the shelf who will check.
While awake or asleep
Notes on them he will keep.
To adults, that's as creepy as heck!
Ken Sheldon, Elon

Other Entries
He must be the boss's kid - just sits and does nothing.
I hear he's quite a tattle-tale.
Ken Sheldon, Elon
---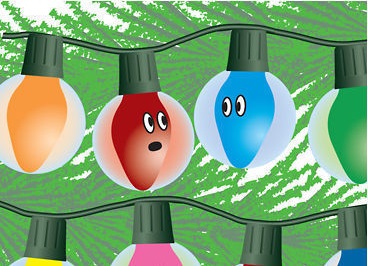 RUNNERS-UP
"You know the rule - if one goes out, we all go out."
Ken Sheldon, Elon

HONORABLE MENTIONS (also getting a vote from the judges)
"Having a blue Christmas?"
Ken Sheldon, Elon

BEST INSIDE JOKE
I hear Santa put a jar of Grey Poupon in her stocking.
I was wondering when Tim was going to get around to Christmas cartoons.
Ken Sheldon, Elon

BEST CULTURAL REFERENCE
Do you think they noticed the squirrel?
Ken Sheldon, Elon
This has got to be a "Christmas Vacation" reference.

BEST POEMS
Christmas lights: an idea that's sound.
'Bout a Christmas tree coiled all around.
We've learned some trees won't handle
The light of a candle,
Thus burning some house to the ground.
Ken Sheldon, Elon

Other Entries
Oh, just hanging around. You?
I enjoy a little light reading.
I hear outside, Irving is signaling airplanes.
I'm glad I'm on a low branch - I'm afraid of heights.
Ken Sheldon, Elon
---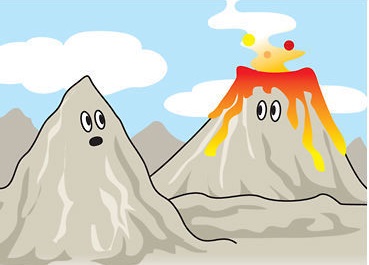 BEST INSIDE JOKE
I told you Grey Poupon was a little spicy..
Ken Sheldon, Elon

Late Poem
As a mountain nearby stood aghast,
A volcano erupted so fast.
Tons of lava, he viewed,
As the ash widely spewed.
When they asked him, he said, "'Twas a blast!"
Ken Sheldon, Elon

Other Entries
Need a Tums?
Awww, you lava me!!!
I didn't think it was anything to blow your top over.
Ken Sheldon, Elon
---

BEST INSIDE JOKE
I dreamt of a dachshund in a bun covered in Grey Poupon. What does that mean?
Ken Sheldon, Elon
It means you've been reading "Joke's On You" too long.

BEST POEMS
"What I've got is a home that's depressant,"
Said the cat. "It is really unpleasant.
When I leave in the house
A dead bird or a mouse,
My darned master throws out every present."
Ken Sheldon, Elon

Other Entries
Arf arf arf. Bark bark. Grrrrr.
Do you know how demeaning it is being called "Runt of the litter?"
Why is Batman the good guy and Catwoman evil?
Of course, I've got Aquaphobia. All cats have Aquaphobia.
Ken Sheldon, Elon
---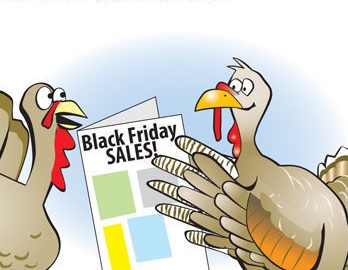 RUNNERS-UP
"Are there any early-bird sales?"
Ken Sheldon, Elon

HONORABLE MENTIONS (also getting a vote from the judges)
"To be honest, I don't think we need to worry about that."
Ken Sheldon, Elon

BEST INSIDE JOKE
Grey Poupon's $1.95? Awesome!
Ken Sheldon, Elon

BEST POEMS
It's a tragic scene, I guarantee it.
Turkeys loving the sales, albeit
For the Thanksgiving feast
They become the roast beast,
And they won't be around here to see it.
Ken Sheldon, Elon

Other Entry
Anything in there for vegan cookbooks?
Ken Sheldon, Elon
---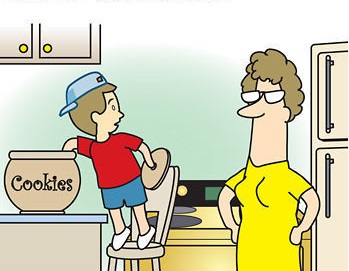 BEST INSIDE JOKE
There's nothing but Grey Poupon in here!
Ken Sheldon, Elon

BEST POEMS
Little Billy could hear his mom grumble.
"Billy! Get off that chair on the double!"
"I took cookies myself
Way up here on the shelf
So my sister won't get into trouble!"

Ken Sheldon, Elon

Other Entries
I'm just helping Dad avoid temptation.
Whose idea was it to put dog biscuits in here?
Ken Sheldon, Elon
---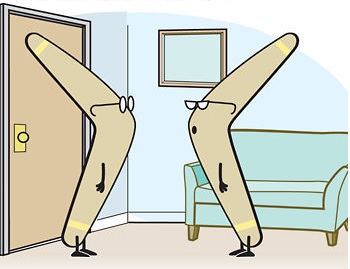 BEST INSIDE JOKE
Can you pick up some Grey Poupon on the way back?
Ken Sheldon, Elon

BEST POEMS
Mr. Boomerang daily departed
On a trip, destinations uncharted.
Though he'd soar far and wide
Every day on his ride,
He would always wind up where he started.
Ken Sheldon, Elon

Other Entries
You'll be right back? Yeah - last time I had to go pick you up.
Ken Sheldon, Elon

It good that we can fly - these little legs aren't going to take us anywhere.
Shrimp on the Barbie? Who's Barbie?
Ken Sheldon, Elon
---

BEST INSIDE JOKE
I don't know if I can do a Grey Poupon jar.
Ken Sheldon, Elon

BEST CULTURAL REFERENCE
I guess making you into Charlie Brown would be fair play.
Ken Sheldon, Elon

Said the pumpkin, "I cannot deny
I'm too fat and my stem is too high."
     The doc went right to work
     With a smile and smirk.
It was quickly turned into a pie.
Ken Sheldon, Elon

Other Entry
You want to be a new Spice girl? I know which one...
Ken Sheldon, Elon
---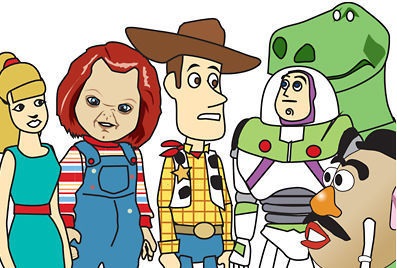 RUNNERS-UP
"Rule number one here is: Don't kill Andy!"
Ken Sheldon, Elon

BEST INSIDE JOKE
See what happens when you eat too much Grey Poupon?
Ken Sheldon, Elon

(Also spotted in the Best Inside Joke category...)
I bet Ken Sheldon has a field day with this one!
Mike Perry, Eden

BEST CULTURAL REFERENCE
I know who's in love with Rickie Lee Jones!
Ken Sheldon, Elon

BEST SONGS THAT'LL GET STUCK IN YOUR  #@&$% HEAD
I know who's in love with Rickie Lee Jones!
Ken Sheldon, Elon

BEST POEMS
It's a strange scene. I cannot deny it.
We see Chucky and Woody?!? Don't try it!
     It might make people sick
     If they're in the same flick.
Of that Pixar, I'm glad Disney'd buy it.
Ken Sheldon, Elon

Other Entry
Uh, Sid's house is next door.
Ken Sheldon, Elon
---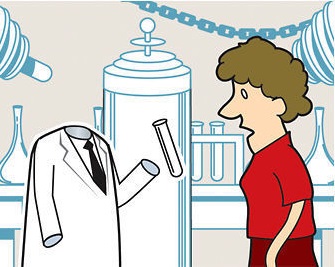 BEST INSIDE JOKE
So the essential part of the formula is a jar of Grey Poupon?
Ken Sheldon, Elon

BEST POEMS
The mad scientist said, "My dear, Jean,
My new vanishing potion's so keen!
I've discovered right here -
Its success is quite clear.
When it wears off remains to be seen."
Ken Sheldon, Elon

Other Entries
"Don't lie to me about working late, Hon. I can see right through you."
You might take a cue from the mummy.
You might fool others, but I can see right through you.
Ken Sheldon, Elon
---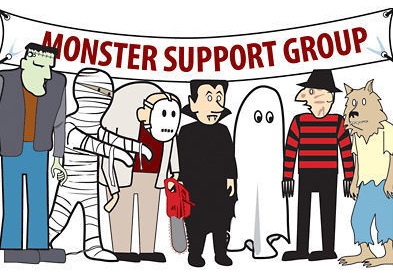 HONORABLE MENTIONS (also getting a vote from the judges)
"Why not Elm Street? We always meet on Elm Street!"
Ken Sheldon, Elon

BEST INSIDE JOKE
Where's Pennywise? We told him Tim uses us for all of the October "Joke's On You" cartoons.
Does anyone know of recipes for coeds using Grey Poupon?
Ken Sheldon, Elon

BEST POEMS
"We can't meet here no more," Freddie said.
"We must find a new venue instead.
Though our old room's so sweet,
It's decided. We'll meet
Underneath some poor little kid's bed."
Ken Sheldon, Elon
Oh! Tough competition this week!
(True, but mine did make the paper!)

Other Entries
So, does anyone know of a good barber for Wolfie?
I'm not sure, but I'm sure Quasimodo has a hunch.
Quasimodo, why are you wearing Michael Myers' mask?
I don't think Drac would appreciate a lunch meeting.
Didn't anyone tell Hillary we were meeting today?
Didn't anyone tell Donald we were meeting today?
Ken Sheldon, Elon (I wanted to be fair to both sides...)
---