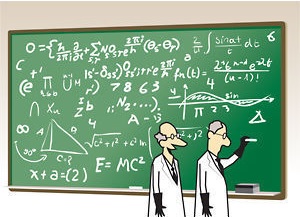 RUNNERS-UP
"So this is how you add one and one using Common Core?"
Ken Sheldon, Elon

BEST CULTURAL REFERENCE
Didn't I see that on Dr. Sheldon Cooper's whiteboard?
Ken Sheldon, Elon

BEST POEMS
Says this poet who's typing in rhymes,
"A trig table - its use is no crime.
What's more common, " I've mused,
"Is computers are used.
You might call it a sine of the times."
Ken Sheldon, Elon

Other Entries
Boy, are you old-school! Everyone else uses whiteboards.
I think the answer you're looking for is four.
Ken Sheldon, Elon
---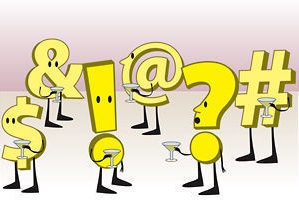 HONORABLE MENTIONS
I guess you could say that on a keyboard, we are all a little shifty.
Ken Sheldon, Elon

BEST INSIDE JOKE
Of course it's a Rickard party – he only serves martinis.
Ken Sheldon, Elon

BEST POEMS
Of a number sign, people will harp.
Other people about it may carp.
It's a hashtag to some,
Tic tac toe sign? That's dumb.
Us musicians know that sign's a sharp.
Ken Sheldon, Elon

Other Entries
Quit yelling!
I'm an ace at "Questions Only."
Of course it's a Rickard party – he only serves martinis.
Welcome to the Tourette's Syndrome Support Group.
Me too! We both have Spanish cousins that stand on their heads!
Ken Sheldon, Elon
---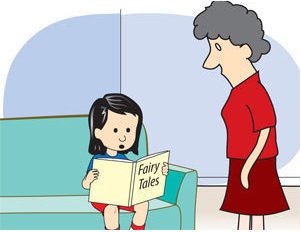 BEST POEMS
Said the girl to her mother, "My stars!
In this fairy tale book that is ours,
It is not what it seems!
There's no bears, dwarfs or dreams!
It's just stories of boats hauling cars!"
Ken Sheldon, Elon

Other Entry
And the king said, "If you like your plan, you can keep your plan."
Ken Sheldon, Elon
---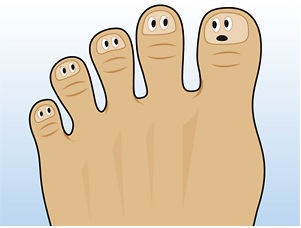 BEST POEMS
Some say marathons can not be beat!
They just love to run far in the heat.
But to me, that's not real,
For a "win" I won't feel:
But an agony felt of de-feet.
Ken Sheldon, Elon

Other Entries
I'm going to the market. How are we doing on roast beef?
Do I smell a fungus among us?
Whoever named it "Athlete's Foot" never saw Joe play basketball.
Ken Sheldon, Elon

---
May 27, 2016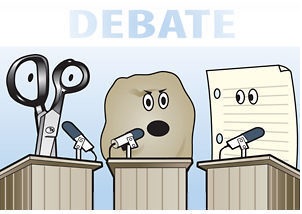 1
RUNNERS-UP
"I resent my opponent's cutting remark!"
Ken Sheldon, Elon

BEST INSIDE JOKE
Who would have thought five years ago that today we'd all be running for the same office?
Ken Sheldon, Elon

BEST CULTURAL REFERENCE
Wow. Not one, not two, but THREE Star Trek references from "Arena."
We all agree: Lizard and Spock are just minor candidates.
Ken Sheldon, Elon

BEST POEMS
This political campaign's upheaval's
Choose the lesser of two or three evils!
Sanders? Clinton or Trump?
Every one we should dump.
They're like biking with Evel Knievel.
Ken Sheldon, Elon

Other Entries
Who could vote for Scissors? His eyes are floating in mid-air!
Ken Sheldon, Elon

Of course, I'm the natural choice! My two opponents are manufactured.
Ken Sheldon, Elon
---
HONORABLE MENTIONS
Maybe we shouldn't have spent all of our profits on bananas.
Ken Sheldon, Elon

BEST POEMS
Make their meetings more fun? The group found
That a barrel of monkeys ain't sound.
With them throwing their poo,
They all knew what to do.
Grab their clubs and then go play a round.
Ken Sheldon, Elon

Other Entries
Nah, even with the barrel, meetings still aren't fun.
Maybe I shouldn't have thrown poo at the CEO...
Ken Sheldon, Elon
---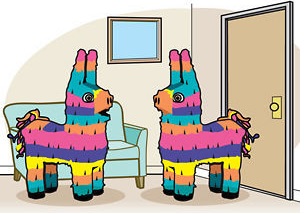 RUNNERS-UP
"I bet we'll be the hit of the party!"
Ken Sheldon, Elon

BEST INSIDE JOKE
Didn't Tim sell us this house as new? I distinctly smell melted snowmen...
Ken Sheldon, Elon

BEST POEMS
There's a party two threw for their daughter.
She was thrilled when she saw what they bought her.
At the party place, she
Was excited to see
A big bright-colored horse-shaped pinata.

"A big horsey! My fav'rite!" she cried!
"I will take it home!" she screamed with pride.
With their girl, they both sided,
Because they decided
They won't tell her what was inside.
Ken Sheldon, Elon

Other Entries
I hate it when we both wear the same outfit!
Ken Sheldon, Elon

Some people are 'Party! Party! Party!' - We're just 'Party...'
No, I insist. YOU go first!
Ken Sheldon, Elon
---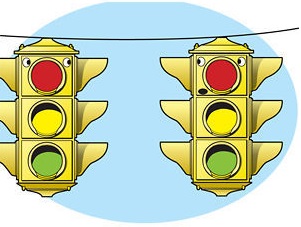 BEST POEMS
When a traffic light's done traffic leading,
Relaxation is what it is needing.
Will it watch some TV
To wind down? No, you see
What it does is a little light reading.
Ken Sheldon, Elon

Other Entries
Let me tell you about your Irish cousin in Syracuse… https://en.wikipedia.org/wiki/Tipperary_Hill#Green_over_red
Ken Sheldon, Elon

Me too. Just hanging around.
If there's a cute girl in the car, I'll keep my red light on a lot longer.
I was kinda hoping for pastels.
Ken Sheldon, Elon
---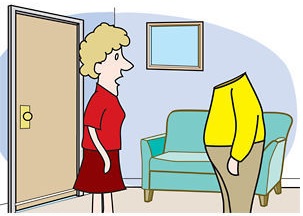 BEST POEMS
One of Star Trek's forgotten old shows,
Dealt with Scotty and transporter woes.
It was hit with a bomb
While Kirk went to see Mom,
But what only showed up was his clothes.
Ken Sheldon, Elon


Other Entries
I guess your boss DID chew you out today.
They did say those pills would make you feel light-headed...
Ken Sheldon, Elon

Hmmm, now that I've brought this mannequin home, where do I put it?
So there was a little accident in the basement with the saw?
Ken Sheldon, Elon

Have you been using my vanishing cream again?
Your chameleon impression is impressive!
Ken Sheldon, Elon

Honey? Come here! Do you think I put too much starch in your Star Trek costume?
I see what happens when you take your clothes off in a walk-in freezer...
Ken Sheldon, Elon

So, how was your trip to Jurassic Park?
You know, there are times I can see right through you...
Ken Sheldon, Elon
---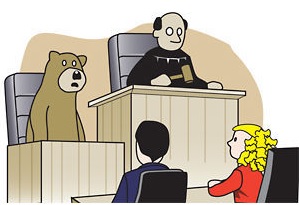 HONORABLE MENTIONS
I'll admit I'd eat the kid's porridge too - mine was always too hot.
Ken Sheldon, Elon

BEST POEMS
In the court, papa's feelings were sharable.
What that Goldilocks did was so terrible!
Eat some food, break a chair,
Take a nap while she's there...
All in all, what she did was un-bear-able.
Ken Sheldon, Elon

Other Entry
What we do in the woods is none of her business!!!
Ken Sheldon, Elon
---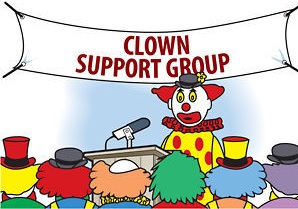 HONORABLE MENTIONS
Next week's topic: Cars and Claustrophobia.
Ken Sheldon, Elon

BEST CULTURAL REFERENCE
Remember our founder's motto: "A little song, a little dance, a little seltzer down your pants."
Ken Sheldon, Elon

BEST POEMS
Our support group has met for awhile.
We've got issues - the list goes a mile.
To feel better, I say
Change your make-up today.
Turn your frowns upside-down to a smile.
Ken Sheldon, Elon

Other Entry
This seminar is "When politicians are called clowns - dealing with the insults."
Ken Sheldon, Elon
---
Highlights - the limerick made the paper along with a runner up, and Scott Tredwell made a reference to a previous cartoon that Tim said was worthy of me!
BEST INSIDE JOKE
"I saw Tribbett chasing them with some mint jelly this morning - created a traffic jam."
Scott Tredwell, Advance
Wow. That's a Ken Sheldon-worthy call-back gag. Well done.
RUNNERS-UP
"I have most of them. Mary left with a little one."
Ken Sheldon, Elon

BEST POEMS
It seems Bo has been missing her sheep.
Since she's ill, she's not earning her keep.
You may ask, "what's to blame?"
Laryngitis, by name.
When she'd call, they could not hear a Peep.
Ken Sheldon, Elon

Other Entry
No sheep here. Have you tried Craigslist?
Ken Sheldon, Elon