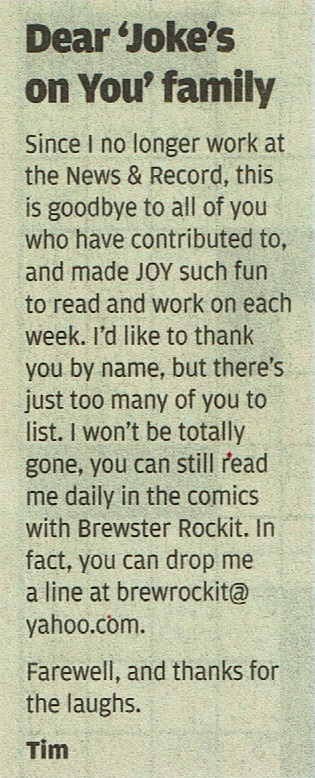 Yesterday the News & Record had this little notice in the spot where the weekly "Joke's On You" feature would normally be located. The Joke's On You is apparently another casualty of the disaster called 2020.

This is a feature that I have been a part of since January 2009, and it held many memories for me:
Making the newspaper with my very first submission.
My 15 wins, the last one being as recently as last month.
My back-to-back wins in just the third and fourth weeks of submitting captions,
The excitement over when I won Roger Ebert's Limerick Contest in 2010,
My limerick feature in January 2011, which took up almost the entire page of the paper
My inclusion in the Joke's On You Hall of Fame,
The week that the artist Tim Rickard noted in the JOY blog that "...your limericks kick a**!!", which has been on my title bar for the site ever since, , and the occasional correspondence with Tim himself.
Being asked to compose a poem to be published in the paper marking the tenth anniversary of the JOY.
I emailed him that Friday morning expressing my surprise and shock at the sudden end to JOY. I was able to send him a couple zip files with all the cartoons contained on this site for the JOY to assist in his job hunt, since when he was let go, his access to the newpaper's archives of his work was gone. I am happy that I was able to help Tim in that way.
It has been a fun ride submitting captions for the Joke's On You, I wish Tim Rickard the best of luck in his job search. Don't forget, as the piece on the left says, you can still catch his work in his Brewster Rockit: Space Guy comic strip.